Well done to all of the girls and their families who participated in the Cyber Break initiative this year! Have a look at drawings Ms. Dunleavy's 5th Class drew of some of the things they got up to.
Our school was also delighted to be selected as one of the schools to receive a Littlewoods Ireland prize bundle of €150 worth of educational board games for the classroom. The games will be put to great use!
Cyber Break is a fun campaign which encourages children and parents to review how much time they spend on devices and to promote a healthy balance between our online and offline lives.
In keeping with our school's Digital Learning Plan, we value the importance of our students having a positive attitude towards the use of digital technologies.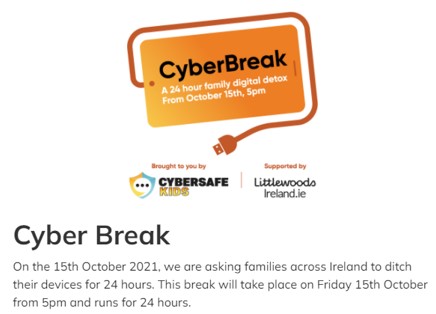 St. Patrick's senior classes are participating in this initiative on Friday 15th October from 5pm for 24 hours.
Organised by CyberSafeKids, more information and family activity ideas can be found here https://www.cybersafekids.ie/cyberbreak/