Safer Internet Day takes place on Tuesday, 8th February 2022. The EU wide initiative will see young people across Ireland leading a series of awareness-raising campaigns and events in their clubs and schools to promote a safer internet for all users. Safer Internet Day is coordinated and promoted in Ireland by Webwise, the Internet Safety Awareness Centre, part of the Professional Development Service for Teachers (PDST) and it is estimated that over 85, 000 people in Ireland took part in the 2021 event.
In St. Patrick's we will be participating in a range of activities and webinars to mark the day and highlight awareness again this year.
Below please find some useful resources for parents, including online workshops and webinars to participate in.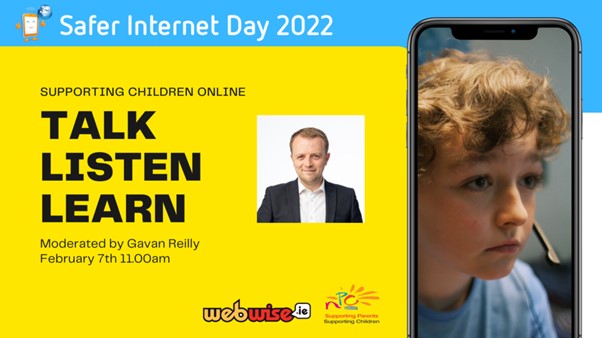 Webwise in partnership with the National Parents Council Primary are hosting the #TalkListenLearn Safer Internet Day 2022 event on supporting children and parent/guardians online.
The event, which takes place on Monday, February 7th at 11am, will include an expert guest panel discussion addressing some of the key findings of the recent National Advisory Council for Online Safety Report. Click on image to register for the event.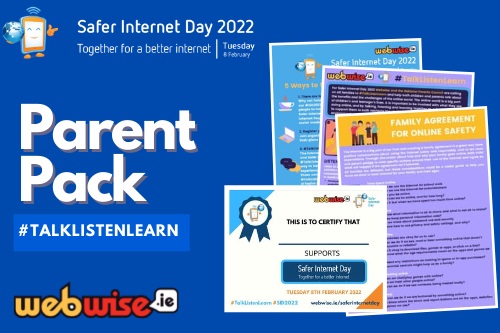 Free Webwise Parent Toolkit containing a range of useful resources and materials to help support parents to engage with their children and teenager's lives online.
Safer Internet Day International: Join us on Tuesday, 8 February 2022 as we celebrate the 19th edition of Safer Internet Day with actions taking place right across the globe. With a theme once again of "Together for a better internet": A range of resources available for parents: https://www.saferinternetday.org/home