Discover Primary Science

Discover Primary Science is a national program aimed at fostering an interest in science and engineering in the primary school.
Every year schools have an opportunity to apply for the Award of Science Excellence. To be successful all the children of the school have to undertake a certain number of experiments and groups also have to visit a science centre during the year.
We are delighted to be able to say that St. Patrick's was recently given the award. Well done to Ms. Gibbons and all the teachers and children.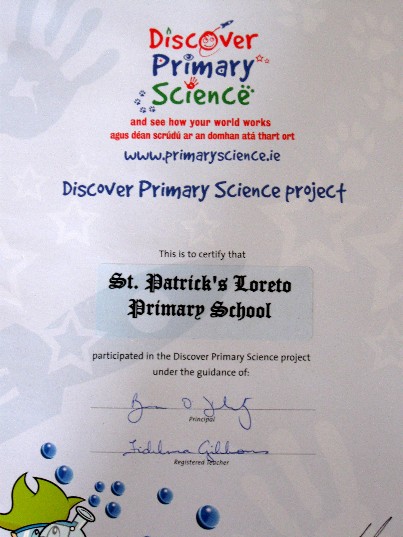 Science and Energy Day


As part of the Discover Primary Science program we recently had a science and energy day in the hall. 15 different groups went down to the hall to perform different experiments and demonstrations. All the classes had a chance to go down at look at these and ask the children who were running the displays questions about them.
We all learned lots of different interesting facts and we had great fun doing it!

Some of the girls demonstrate the build a boat experiment.
They try out different designs to see which one hold the most peas.

Some of the girls play a tune on the musical bottles.
By putting different amounts of water in each bottle they make different sounds.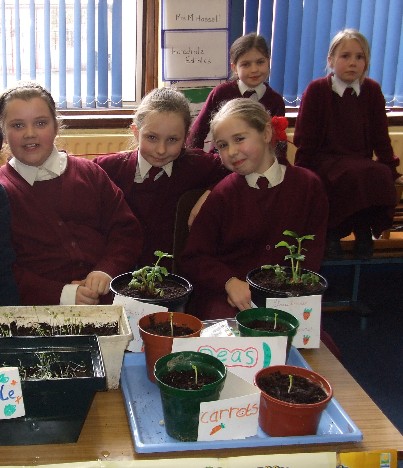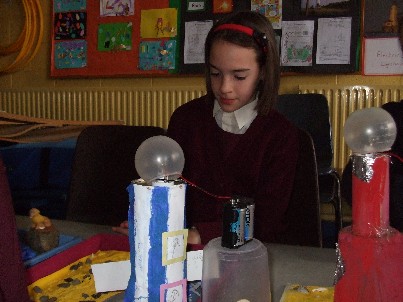 Look at what the girls have planted.

The girls used electric circuits to make lighthouses.